Mise au point complète
Ajustement de l'action
Ajustement du manche
Polissage des frettes
Nettoyage complet & lubrification
Intonation
Installation de cordes
Le tout pour 60$, cordes non incluses
Complete tuning
Action adjustment
Neck adjustment
Fret polishing
Complete cleaning and lubrication
Intonation
String's Installation
Only 60$, strings not included
Services offerts:
À propos de Guitares sur mesure BM
La lutherie Guitare sur Mesure BM construit une gamme de guitares faites une à la fois, en bois 100% massif. Les dimensions de l'instrument, l'action, la touche, son rayon, la grosseur des frettes et la longueur du manche, sont construits selon vos exigences. Nous vous offrons pour le dos et les éclisses des bois exotiques provenant du monde entier dont l'Amérique du nord. La variété de bois des tables d'harmonie provient d'Alaska. Les sillets sont en os et les clefs d'accordage sont selon votre préférence. Bénéficiez des conseils d'un professionnel avec plus de 25 années d'expérience.
Les photos des différentes étapes de la fabrication de votre guitare, vous sont envoyées par courriel.
Les dépôts peuvent être fait via Paypal
Guitare sur Mesure BM offers you a variety of guitars made one by one using 100% solid wood. The action, the fret board and its radius, the fret size and the length bridge to bridge of the instrument are crafted according to your specifications. We offer exotic wood from all around the world including North America for the guitar back and side. The type of wood used for the sound board comes from Alaska. Bone is used for the nut, and we do install your prefered tuning pegs.
We have more than 25 years of experience, and will be glad to help with advice.
Pictures showing the evolution of your guitar making are sent to you by E-mail.
Paypal may be used for deposit.
RÉPARATIONS
Tarifs / Rates
REPAIRS
Ajustement de l'action du manche
Ajustement du sillet
Ajustement complet (cordes non-incluses)
Ajustement de l'intonation (guitare électrique)
Polissage de frettes
Limage de frettes (ajustement non-inclus)
Pose d'une frette
Pose de 24 frettes, sur manche non vernis
et sans décoration (frettes offertes en différentes dimension)
Recollage du pont, (acoustique), bois de
rose sur table d'harmonie
Installation d'un pont, plastique ou os
Réparation d'un sillet de tête
Installation d'un pont sillet de tête en os ou
plastique
Réparation de fissures, (pont bois de rose)
Creusage d'une rainure pour le sillet du chevalet (acoustique)
Installation d'un transducteur (pickup) Fishman Installation d'un transducteur (pickup), guitare électrique
Installation de nouvelles clés d'accordage
Autres travaux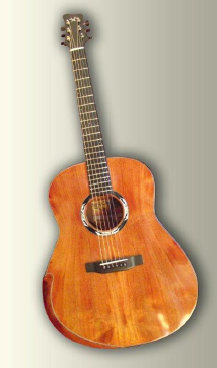 Exhibiting at Montreal Guitar show
Neck and action adjustment
Nut adjustment
Full tune-up (strings not included)
Electric guitar intonation's adjustment
Fret polishing
Fret filling (adjustment not included)
One fret replacement
24 frets installation on non varnished and plain fret board (frets are offered in different sizes)

Rebonding rosewood bridge on the sound board of acoustic guitar
Plastic or bone bridge installation
Repairing the nut
Nut installation, plastic or bone

Crack repair on rosewood bridge
New bridge intonation groove (Acoustic)

Fishman pickup intallation
Electric guitar pickup installation

Tuning pegs installation
Any other work
$ 30.00
$ 10.00
$ 60.00
$ 20.00
$ 15.00
$ 30.00
$ 15.00
$260.00


$ 80.00

$ 35.00
$ 5.00
$ 15.00 -->$ 35.00

$ 30.00
$ 80.00

$ 60.00
$ 30.00

$ 25.00
$ 35.00/hr
© Les images et textes sont propriété exclusive de Guitare sur mesure BM. Toutes références faites à des marques de commerce ou compagnies demeurent la propriété exclusive des dites compagnies. Ce documents est sujet à de fréquentes modifications.

© Pictures and texts are the sole and exclusive property of "Guitare sur mesure B.M.". All references to registered trademarks or existing companies remain the sole property of the said companies. This document is subject to frequent up-date.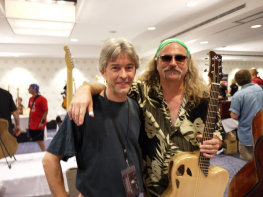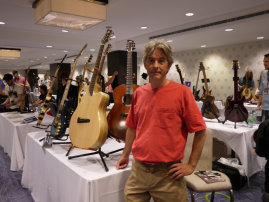 Jeff Smallwood et la Contemporaine
Jeff Smallwood and the Contemporary
Salon de guitare de Montréal 2012
Montreal guitar show 2012
About Guitare sur mesure BM
Services de lutherie offerts:
Toute guitare peut être remise en état
Any guitars can be restored
Pour me joindre 450-444-8806 To reach me
Lutherie services offered:
Vidéo fait par Richard Trudeau avec la guitare contemporaine
Contemporary guitar's video made by Richard Trudeau
Visionnez d'autres vidéos à l'adresse suivante:
See more videos at: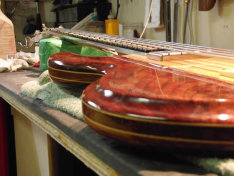 Guitare sur mesure BM
Benoit Maillette
BM Guitars
Exposant au Salon de Guitare de Montréal
Ajustement complet
Design & Conception sur mesure
Complete tuning
Lundi au vendredi / Monday to Friday: 8hres à 19:30hre
Samedi et dimanche / Saturday & Sunday: 9:30hres à 17hres
Services offered: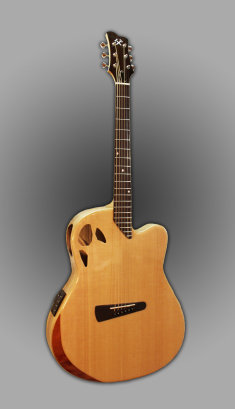 Réparations
Custom design
Repairs